To order any of these unique souvenirs, either:
NB: A cost will be added to cover postage & handling.
---
Caps
$15 each
Pens
$5 each

Cloth Badges
Round $6, Squadron, $15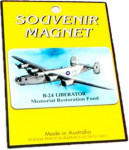 Fridge Magnets
Round $3, Rectangle $3.50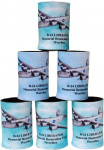 Stubby Holders
$10 each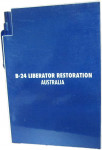 Note Pads with Pen
$2.50 each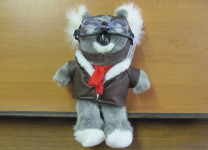 Soft Toys
Pilot Koala $12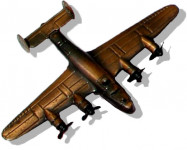 Pencil Sharpener
Shaped like a B24, $5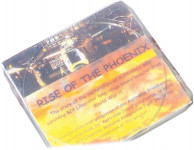 Rise of the Phoenix
A DVD of the ABC Australia Story which featured the Liberator is only $15.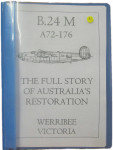 B24 Liberator Restoration Australia
A book - written by Don Davis - detailing the story of the restoration is available for $5.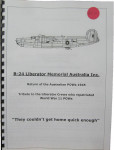 Repatriation of WW2 POWs by Liberators post war
Memoirs of the Liberator Personnel involved in the repatriation for $5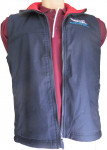 Reversible Vests
Black and red $50 each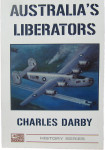 Australia's Liberators
Written by Charles Darby: a history of Australia's Liberators complete with photos, diagrams and statistics: 224 pages for $35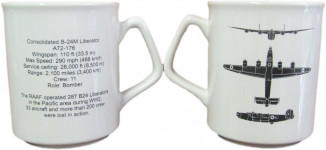 Liberator Mugs
Plane on one side, technical info on the other $10
---
Books and Maps
Australian Outback maps, books and travel information is Westprint's specialty. Westprint has one of the widest range of hard-to-find Australian books.
Subjects vary from Australian Animals, Natural History, and particularly, Early Australian Exploration Books offering factual information about European exploration and settlement - from the 1800s to the mid 1950s.
Including, several military-related books such as 'FLAK' - first published in 2006; this edition 2009. Here is a description of the book:
"Michael Veitch's life-long obsession with the aircraft of the Second World War led him to conclude that every single person who flew, or flew in them has at least one extraordinary story to tell. With most of these veterans in their eighties, he knew that it was a matter of urgency to find them now, before their personal stories disappear for ever."
"So, over the course of a year, Veitch interviewed over 50 former aircrew across Australia, many of whom had never spoken about their experiences before, even to their families. The result is Flak – a collection of vivid, unforgettable stories from RAAF veterans about their experiences of combat in World War II. It is also an account of the strange, sometimes obsessive journey of the author himself, as he explores a passion held since childhood."
"From bomber pilots to fighter aces, from rear gunners to bomb aimers, from stories of death and fear to tales of humour and comradeship, Michael has helped unearth the extraordinary stories of ordinary men living and fighting in extraordinary times."
Photos
Dave Miller, our Project Development Officer, displays his creative photos on the amateur photography website called Red Bubble.
Dave's photos are for sale and all proceeds are donated to the B-24 Liberator Restoration Fund.
Nick McGrath, a photo journalist, has taken several shots of the restoration project. One of his photos is an overall shot of the interior of the hangar which is a limited edition production of 12. Each one is signed by the artist and is for sale at $80 - it measures 54 x 25 cm.
The link to Westprint's range of aviation and military books - plus so much more.
Footnote: Westprint pay us a commission on all sales made through our website.