July/August 2022 Newsletter
---
Lest we forget
VALE.
IT IS WITH SADNESS THAT WE REPORT THE PASSING ON THE 18TH OF JULY OF Mr NAT EICHLER, OUR LONG SERVING AND DEDICATED HANGAR MANAGER. NAT WAS THE INSTIGATOR, DRIVER AND LEADER FOR OUR TECHNICAL JOURNEY TOWARDS THE COMPLETION OF OUR LIBERATOR RESTORATION. UNTIL HIS PASSING NAT HAD DEDICATED 28 YEARS OF HIS LIFE TO OUR PROJECT.
Members Matter.
A72-176, CURRENT STATUS.
It is sometime ago that we provided an update on the overall status of our project and future work plans. This update is raised for your information and support. The Lib. is considered to be 96% complete at this date. The majority of work remaining revolves around the fitment of restored components, flaps, ailerons engines, propellers, nose undercarriage, electrical components and gun turrets. There are some cosmetic items that are required and they will be manufactured from drawings in our library. We decided to suspend the fitment of the above items due to the eventual move to the restored hangar 1 (currently forecast as late 2025).
Pre covid restrictions, our hangar volunteer attendance averaged 32 on Tuesdays & Thursdays, Sundays, 5. Post covid restrictions, 27 Tuesdays & Thursdays, Sundays, 3.
We are currently in a vacuum regarding the preparation of the Liberator for the move to the restored hangar 1. To enable us to move the Lib. fuselage from hangar 2, the outer wings will have to be removed. An unwritten truth on aircraft restoration is "When a component is removed from the airframe it will require 50% extra area of floor space". As the Lib. fuselage will require a bit of internal hanger maneuvering we will need to move the outer wings to the completed hangar 1. During these operations the vertical roof support beams in hangar 2 will have to be temporarily removed. In addition, two large storage containers will have to be re located.
The outer wing removal and relocation as with the fuselage move will have to take place during a "best guess fine weather window" taking into consideration the temporary removal of the roof supports and the presence of hired heavy lifting equipment.
Committee Report from May. Hangar 1 relocation report June/22.
The new entry driveway ramp has been installed in Farm Road and will be functional once the traffic lights are working at the intersection of the Princes Highway and Farm Road. Improved location signage will be installed on both sides of the Princes Highway and the entry on Farm Road.
Stakeholders meeting held on August 16th .
Due to covid restrictions the previous series of meetings involving responsible organizations re Hangar 1 restoration progress was suspended from 21/5/019. At our request the meetings have now been resumed. The first meeting of the new series was held at the hangar on 16/8. In attendance was our Patron, Carl Schiller, representatives from the State Government, Wyndham City Council, National Trust, Development Victoria, Lyn Gorman, Gary Singline, Paul Rourke and Dave Miller.
We presented some perceived "Road Blocks" for discussion and resolution These were accepted for action. The benefits of these meetings in an informal setting again became obvious where conversations were face to face and relaxed.
We proposed to meet again in 6 months. This was requested to be amended to 3 months.
This has been taken as general approval for our approach.
Liberator, work in progress.
The electrical/instrument section is reviewing the sequence of loom installation activities to avoid cross trade access hold ups and interference.
In addition it will ask the committee to review the need of manufacturing and installing looms for "flying only" components, i.e auto pilot, altimeter etc.
Oxford, work in progress.
Contact with "Saving Amy", the English group restoring an Oxford similar to ours has been re established. The main purpose is to swap copies of our wing drawings for re mastered copies of their fuselage drawings.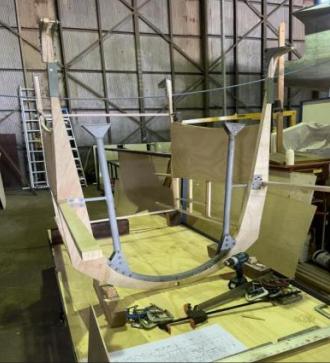 Centre fuselage structure removed from centre section location position to allow access for skinning work.
Strange, but true.
In 1958 the Luftwaffe decided to re equip with F104 Lockheed Starfighters, supersonic high altitude interceptors. Part of the design was a "T" tail which would have interfered with upward crew ejections. The answer was to design and fit a downward firing ejection seat. This worked well within its original operational requirements. However within two years of its service introduction these requirements changed. After a major rework the MartinBaker GQ-7(A) upward firing seat was fitted resulting in the attachment of this unique ejection seat warning decal.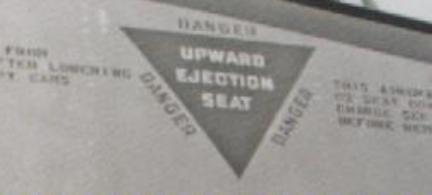 Several blasts from the past.
Extract from our Newsletter dated September 1996. Col Grey would like to remind us that we lack the following items for our Lib. 1. Ball turret - this is one of our most important requirements as we have been unable to secure one or locate the plans from which one could be made, 2. Mid upper turret - we have the plans but it is a very expensive undertaking. 3. Nose turret - same as mid upper turret.
August 2022 have a look around our hangar, all the above items are present and serviceable. A mighty effort by all concerned.
Of interest?.
Why do we have certain groups of people continually turning history into fiction and then turning fiction into history?.
Flt. Sgt. K. W.Beale's story (cont.).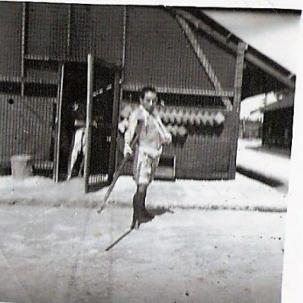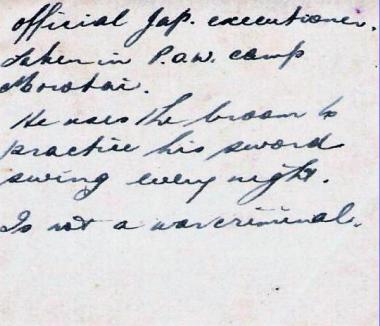 Part of Flt. Sgt. Beale's collection of personal photographs taken during his service with the RAAF.
It's a small world.
We have been unaware of Flt. Sgt. Beale's assigned Sqdn. However the mystery is now solved. July, August.2022. Series 2, issue 4. Mr Norm Wilson of Finley has informed us that Flt Sgt Beale served with 21 Sqdn. As did Norm and his crew. Thanks Norm.
Successful Quest.
Mathew Jobson supplied the answer to our mystery item question in the last edition. It is a pocket combined sundial and compass made in England, 18th century.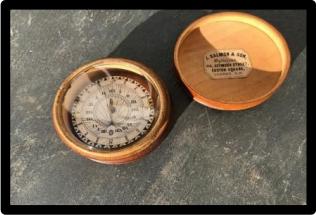 Thanks Mathew.
Another mystery item.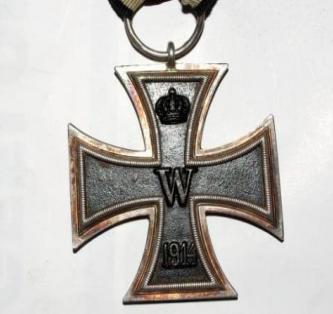 Dated 1914 with crown.
Forthcoming events.
06/09/22 visit by The commercial vehicle club of Vic. + engine run.
22/09/22 Visit by The RAAF Engineering Officers Association. + engine run.
14/15/ Jan./23. At the Classic Truck Show , Geelong Show Grounds + engine run.
Presidents Message.
Once again, it is wonderful to be operating in a 'normal environment', welcoming visitors back to the hangar, and planning for future events.
Recently the meeting of stakeholders in the Hangar 1 project was, we felt important and successful in providing a forum for productive discussion and the resolution of problems.
I look forward to Spring and hope that more people will feel comfortable venturing out and visiting our workplace and museum.
Lyn Gorman, President.