Ed Crabtree - July, 2011
A Country Boy
I taxied to the threshold of the runway at the Werribee Airstrip, 35 Km south-west of Melbourne. I glanced across at the vacant seat beside me. Up to now, it was where my instructor had sat. Turning onto the grassy strip, my heart was racing and my hands felt clammy but my eyes were focused intently down the runway. I was cleared for take-off! Advancing the throttles, the Oxford began to roll forward. Then, in a heartbeat, the tail swung violently around. Oh, no, I had ground-looped! It was my first solo sortie of my Airspeed Oxford Conversion Course.
I had time to reflect on my life as I slowly returned to the lines to enable the ground crew to inspect the aircraft for damage. I began to brace myself for the inevitable berating from my instructor and, possibly, the Chief Flying Instructor - who may scrub me off the course. Deep down, I was feeling guilty for having deserted my fellow engine fitters; of which there was a shortage. Why did I think that I could fly; my strengths were in engineering?
I reminisced of the teacher's residence that we used to live in, beside the Bengworden State School– about 25 Kilometres east of Bairnsdale, Gippsland, Victoria. Due to the size of the teacher's residence, we had a lean-to constructed which only had a dirt floor. Also, three of us lived in a tent for about two, long years. I thought of the horse and buggy journeys, along a dirt road, to Bairnsdale to do our shopping; this was always accompanied by a lot of bouncing and swaying! There was no electricity or water on tap so the clothes were washed in a boiler over an open fire. The soap was made from animal fat and caustic soda.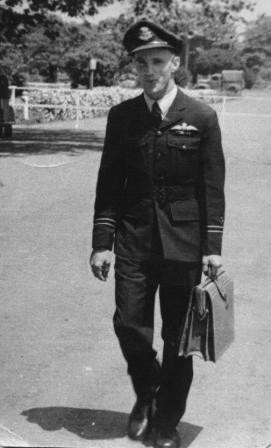 I recalled my time as a toddler, sitting on the school steps and listening in on the class activities. It wasn't long before Dad decided that I may as well start attending classes – I was only four years old. I mused how my two older brothers and I used to roam the countryside un-restrained; exploring the waterholes; fishing for eels and trout; and, collecting bird's eggs. As a boy, I had my usual run of accidents: cut cheek caused by a jam tin lid used like a Frisbee; severely burnt hands when I fell into the boiler fire; and, crushed fingers when my brother was chopping wood. I thought of how we made money by selling mushrooms and rabbits and picking grapes. We then used the proceeds to buy aniseed balls and liquorice allsorts. Sadly, I also remembered the passing of my eldest brother, at the age of 15, from rheumatic fever.
As I continued to taxi beside the strip, I smiled fondly at the memory of the Principal of the Bairnsdale Technical School giving me two great books: one was, "Everyman, His Own Mechanic"; and, the other was, "Handyman". I found both these books fascinating and, perhaps, this is what stimulated my interest in all things mechanical.
I thought about how our walks to Coldstream for provisions would take us past Dame Nellie Melba's residence, 'Coombe Cottage'; by this time, she was close to retiring from her opera-singing career. This was after we moved to Yering, Victoria - located about 50 Kilometres north-east of Melbourne. On occasions when she saw us passing, she would direct her driver to take us home. We swam in her dam until she caught us and told us to use her swimming pool at the house. In fact, her grand-daughter – later Pamela, Lady Vestey – was a pupil at our school.
My thoughts wandered to the time when I spent a year's savings on joy flights when Sir Kingsford-Smith visited the Gippsland region. He charged 15 schillings for a 5 minute sortie in the 'Southern Cross'.
I recalled finishing school at 14 years old; the depression was very severe - it was 1933. I got a job with a radio manufacturer in South Melbourne. To save wearing out my shoes, I would walk bare footed back to the boarding house.
I reflected on my time at the Dookie Agricultural College; to complete a 3-year Diploma course. My most enjoyable times were in the Engineering shop where one of my achievements was to design a shock absorber system for a bicycle. After a lot of sweat and tears, I graduated from Dookie College; failing was not an option. In my spare time, I made some pocket money by selling radio receivers that I had built; working on the farm during the term holidays; and, developing people's photos. I guess that my later financial success was mostly due to the necessity, in those days, to make money any way I could to survive. It was a wonderful all-round education because it provided a modicum of knowledge on a wide variety of subjects; both academic and practical. I arrived as weak as a kitten and graduated as a fit, strong, young man with a practical education. I pondered what could have been because, upon graduating, International Harvester offered me a job as a Block Manager in the Riverina. Whilst cogitating on this offer, my father invited me to help him run a recently acquired Mixed Business – milk bar, fruit shop, tobacconist, post office and bank – at Brighton Beach, a suburb of Melbourne. I decided on the Mixed Business. But it was a most exhausting business with no time off and very little profit. Mind you, I did appreciate the very nice customers.
---
My Military Years
I began to think about how I had hoped, upon joining the RAAF, to be trained as a pilot; but I am now wondering, as I near the aircraft parking area, if this hope was unfounded. However, as the Empire Air Scheme was not yet implemented, I was enlisted as a Flight Rigger. My course started in February, 1940 at the Showgrounds in Ascot Vale, Melbourne. I will never forget how unbearably hot it was; it was well above 100 degrees Fahrenheit (38 deg. C). On finishing the course – obtaining a distinguished pass – I was posted to Parafield, which is located near Adelaide. I reminisced how, apart from working on airframes, I repaired flight instrument and did some official photographic work; such as aerial shots of the aerodrome. And then, after Parafield, my postings to a number of Bases; working primarily as an airframe fitter on Avro Ansons, Hawker Demons, Fairy Battles, and Beauforts. During this time, I would apply monthly for a transfer to aircrew but was denied each time due to the scarcity of fitters. After one such application, I was duly transferred to Laverton to assemble Vultee Vengeances and Spitfires.
It was not long after this posting that I remember being rather startled when I was advised that I had been accepted for aircrew training at Somers on the Mornington Peninsula. The course proved to be very demanding – both mentally and physically. I was so relieved to find that I was selected to do a pilot's course at Benalla. I then mused about going solo after 5 hours of flying experience. On this solo flight, I did embarrass my instructor because he told the other instructors what a good pupil he had and for them to watch my smooth landing. Well, I bounced about 5 times before settling onto the runway; which did me no good at all and left egg on my instructor's face!
And here I am now, parking the Airspeed Oxford back in the lines and I am having serious misgivings about my future as a pilot. When I got to the de-briefing room, my instructor was not too fazed with my incident. He explained that I had ground-looped the aircraft because I had advanced the throttles too quickly. It so happened that my instructor, Cyril De Kantzow, visited Dookie College when I was there. He arrived in a Cierva autogiro, a peculiar machine, and I paid for a short ride. During this flight, Cyril was demonstrating a forced landing following an engine-failure which resulted in us hitting the ground heavily. When I met him at the start of my Oxford conversion, he told me that he had later written the aircraft off whilst doing the same thing. It was an eventful course for me as, apart from my ground-looping, I: almost ran out of fuel on a navigation flight; almost departed the bomb range with a live practice bomb on board and then, nearly killed the target scorer when I did go back to drop the remaining bomb; and, I was caught out in the library when I should have been attending an airframe lecture. But, in due course I passed and was selected to fly the B-24 Liberator with 530th Squadron of the U.S. Air Force. This squadron was operating out of Fenton at the time.
With the Squadron, I flew many sorties to New Guinea and to Java. I felt privileged that the Flight Commander of my crew was an exceptional pilot. In fact, post war, he spent 15 years flying Air Force One. To reach some targets, we operated out of Marble Bar; an extremely hot and humid place. Such sorties would often last for 15 hours where we would takeoff in daylight and not land until daylight the next day. During the wet season, the daily thunder storms not only hindered our run onto our assigned targets but they also were a serious threat to our safety; most frustrating! Often times, we had no alternative but to develop a method of penetrating them. Fortunately, the Liberator was a reasonably stable aircraft in such an environment. However, there was still a great deal of pitching, plunging and severe icing on the wings. At the same time, we still had to deal with the enemy ground fire and the ever-menacing Zero fighter planes. But, we did get our revenge on the Zeros on one occasion when, operating out of Nadzab, we bombed 200 Japanese fighters while they were refuelling at Hollandia, West New Guinea. Intelligence sent word back that all the fighters were destroyed in the raid; for which the Squadron received a Presidential Citation.
After 9 months of combat duty, I was granted three weeks leave. I spent this time at home in Dandenong, Melbourne. Whilst on leave, I was notified that I had been posted to 36 Squadron. But the day before I was due to report to my new squadron, I received a telegram which amended my posting to No.7 Operational Training Unit, Tocumwal, as a pilot instructor on the B-24s. At full strength this Unit was equipped with fifty-four B-24s and was responsible for training 28 crews per month.
On arrival, my first task was to adopt RAAF cockpit procedures and to forget those of the USAF. By the way, it was interesting to compare the two Forces policy on military equipment. The American policy was: if we have the equipment we can use it; where-as the RAAF policy was, if we have it in store, we can't use it because we may need it later on. Fascinating! The second task was to receive a promotion to Flight Lieutenant because it was deemed that we could not have a Pilot Officer as an instructor with senior officers on course. My third task was to find a way to relate to these senior officer-students. This was very challenging at times since my students were also often very experienced veterans and were highly decorated for operations in Europe and the Middle East. Somehow, I did succeed in relating to these students; most of the time. I did experience the odd emergency as an instructor, such as: a practice bomb hang-up; the landing gear stuck in the up position; and a Beaufort, which had blown a tyre during its takeoff run, careering towards us as we waited beside the runway. By the way, the Beaufort stopped only metres from us with one engine on fire. Dust storms were a regular occurrence in the Tocumwal area and particularly bad dust storm would cause aircraft to divert to places such as Ballarat and Laverton.
One student, an ex American-Fortress co-pilot, that I had to scrub off course, was posted to Sydney to demob. And much to my dismay, he was posted back to Tocumwal to test fly aircraft coming out of the repair depot. One such aircraft was a modified B-24 configured for a transport role; which meant that it was much lighter without the weaponry and so the landing speed was lower. But this ex-student had to make several attempts to land this aircraft because he persisted on trying to land at the normal speed for B-24. In desperation, I instructed him to touch down and hold the control column forward to keep it on the runway; otherwise, he was going to run out of fuel. Yes, he did follow my instructions and the landing gear came up through the wings! That permanently completed his flying career.
A number of crews, including mine, were detailed to fly back new aircraft from America. We flew via Honolulu; a very exciting place as it is regarded as a paradise. Unfortunately, we did not see much because it was just a re-fuelling stop before we took off for San Francisco. We had only been there for a couple of days when news of the atomic bombing of Japan was announced. It was something that we had never heard of before; so the news was received with considerable disbelief. The next day, following the dropping of the second bomb, San Francisco went wild! According to the local papers, 13 people were killed and 1500 injured as a result of the celebrations.
With the war over, it was going to take a while for the Embassy to arrange for our return to Australia. So, it gave all the Australian crews the opportunity go sight-seeing. Some went to New York, others to Canada and Bill Stutt and I went to Hollywood where Bill knew an Australian architect. We stayed at the Hollywood Boulevard and, during our adventure, we met Bob Hope; Judy Canova, a popular comedienne at the time; and many others. A week later, we were back in San Francisco and, instead of flying those shiny, new aircraft back, we sailed back to Melbourne on a very primitive Liberty ship. Since that trip, I have had no interest in ocean cruising.
At Tocumwal, we found that the Base was now in care-taker mode and very little flying was available. But I did manage a trip to Moratai to transport ex-POWs to Adelaide and Melbourne. Returning to Tocumwal, I took over as the Squadron Adjutant. During this wind-down period, aircraft and equipment were being transferred to other bases including East Sale. It so happened that I was assigned the job of flying A72-176 to East Sale. This aircraft was removed from the RAAF register the following day and it is the aircraft that we are currently restoring at Werribee. I am proud to have been one of the last pilots to fly it as a Captain.
---
Business Life
Shortly after this - in May, 1946 - I was discharged from the RAAF and I began casting around for employment. I did consider working for International Harvester managing a block in the Riverina region. But it was about this time that I received an invitation from TAA to fly their aircraft. I accepted this offer. The boss of ANA was Alec Barlow, one my previous CO's in the RAAF. At the time, TAA had two DC3s. But shortly afterwards, they bought four DC4s, a more luxurious aircraft, and I began to fly these as a Senior First Officer. We serviced most of the Australian Capital cities as well as those in New Zealand. I remember vividly, on a trip to Brisbane, we actually had to fly through the eye of a cyclone; it was amazing how calm it was in the region of the eye. After about four years, I was transferred back to DC3s and was certified as an aircraft captain. The DC3s did the short-haul work and some freight runs; the freighters were always at night. A typical freight run was to carry racehorses to Sydney; general freight to Perth; newsprint from Wynyard; zinc ingots from Hobart; and, crayfish and mutton birds from Flinders Island.
In 1951- after discussing it with my wife, Lola - I gave up civil flying and started a dry-cleaning business. We upgraded the cleaning system - adopting an American technique - which produced a better result and a greater profit. In 1956, with the business thriving, I decided to branch out into Real Estate. I knew nothing about the business but the licence was easy to acquire; and required no study. It turned out that this business was more profitable and so I eventually sold out of the dry cleaning partnership and focussed on developing the Real Estate business. In fact, it wasn't long before I had to set up an IBM computer to help handle the huge work-load in the office. And, from that humble beginning, the business continued to grow a great deal. I retired in 2001 after 45 years in Real Estate; I was 82 years old.
---
Reflections
Reflecting on my fulfilled life, I am proud of the fact that I enlisted as a Flight Rigger and finished as a Flight Lieutenant flying the B-24 Liberator as the Captain. I am also proud of having served with the USAAF for 9 months carrying out missions North of Darwin. Post war, I was one of the first intake of pilots into TAA. I am also proud of the success of my Real Estate business; starting from scratch and with absolutely no experience. It is also pleasing to note that I was one of the last pilots to fly A72-176. Furthermore, I am proud of having built our holiday home at Mt. Martha and having built a large garage and wing wall in brick at Ashburton.
The most notable of people who have inspired me were Major Gus Connery and Lt. Colonel Joe Casario who were both, at different times, CO of 530th Squadron, 380th Bomb Group. They were both top pilots and demonstrated what a B-24 could do that even the manufacturers did not think was possible.
My hobbies have been diverse. My first, as a school boy, was building model aircraft that flew. In fact, one of the planes I made was a Schneider Trophy, the forerunner to the Spitfire. Another hobby of mine was repairing watches and clocks. I progressed from there to engineering and by 1939 I had bought a lathe and a fully equipped workshop. I still continue my interest in photography. But my most recent hobby is, of course, assisting to re-build A72-176 at Werribee.
Finally, now that I am in my twilight years, I want nothing more than to continue to pass on any ideas that may help my beautiful grandchildren in making decisions as they forge a life for themselves. And I must admit I take a very keen interest in what they are doing and what they are attempting to achieve.
---
Editor's note: Ed started assisting with the restoration in 1998 when he was 79 years old. He still enjoys being able to employ his hobby in engineering and has a skillful hand on the metal lathe with a keen eye for detail.