Charles Lister: 26/10/1914 – 24/10/1992
Charlie finished up as a Squadron Leader on B-24 Liberators by the end of WW2. His wife, Joyce, and sons; Robert, Neil and Grantley, have contributed to these notes of his life and his very distinguished flying career.
The Early Years
Charlie (Chas) was born Charles Thomas Lister in October, 1914 in Adelaide and, together with younger sister Jean, spent his early years in the Adelaide suburb of Black Forest. His parents, Charles and Emily, had migrated to Australia from England in 1911.
He attended Black Forest Primary school and later attended the Barton Technical College. He was a very good sportsman; he played hockey and tennis, he was a surf lifesaver and he represented S.A. in senior rugby.
His one ambition was to become a pilot. And only having limited means, he realised that the only way to achieve his dream was to join the RAAF; which he did but had to join as a 'Fitter'. At first his Mother refused to sign the enlistment papers but his determination - which was evident all his life - won her over. This was before the War; an era when flying was a very new industry.
Upon gaining entry into pilot training, in January 1938, he did his basic training at RAAF Base Laverton, Victoria and was then posted to RAAF Base Pearce in W.A. to complete his flying training. This was still pre-WW2. Later postings included: Camden, Narrandera and Tocumwal in NSW; Parafield and Mallala in S.A.; and, Bundaberg and Townsville in Qld.
Aircraft flown in those early years included: Gipsy Moths; Tiger Moths; Moth Minors; Miles Hawkes; Avro Cadets; CAC Wackett Trainers; Avro Ansons; Airspeed Oxfords; and, Lockheed Hudsons.
Charlie met Joyce in Port Noarlunga S.A. in 1938 and they were married in 1940. She accompanied him on many of these postings during his RAAF training.
---
The B-24 Liberator Period
Charlie was formally commissioned as a Flying Officer in September, 1941 and then as a Flight Lieutenant in April, 1943. He first flew Liberators in April, 1944 at the Tocumwal Air Force Base. In August, 1944, he was posted, for 3 months, to the 380 Heavy Bomber Group (530 Squadron) of the US Air Force based in New Guinea. Later, he was posted to No. 23 Squadron, RAAF, which was operating out of Long and Darwin in NT at the time.
From September, 1944 to October, 1945 he flew a total of 32 'missions'; mostly over what was then known as Borneo, Celebes and Batavia. Many of these sorties were flown via the Truscott Air Base in the North-West Kimberly. The average flight time of these 'missions' was around 11.5 hours; which at that time, in such an aircraft with a crew of eleven, was quite remarkable! His log books describe: many airstrip/barge/aircraft bombings; various 'ack-ack' levels; strafing runs; fighter interceptions; and, search and supply missions.
Charlie flew a total 789 hours in the Liberator aircraft of which he was the Captain for 95% of the time. His Flight Log Books indicate that these hours were achieved by flying 51 different B-24 aircraft. In June, 1945 he received a Special Commendation from the King for his meritorious service in the air.
Whilst Charlie rarely talked about the war years, his family recall a number of incidents!
His flying boots, which had eventually succumbed to moths and mould, bore an obvious groove in the heel of one boot which was reportedly caused by enemy ground fire!
While bombing enemy airstrips, his Squadron used to drop beer bottles containing a razor blade in the neck of each bottle. They apparently sounded like a falling bomb but, as they did not explode, it was hoped the enemy would assume that they were 'time delayed' bombs and thus stall their emergence in order to commence airstrip repairs. In Charlie's log book on June 6, 1945, mention is made of '4 cases of beer bottles' being involved in a 'harassing flight' over Borneo – one can only presume they were drunk well before take off!
On meeting one of his Ground Crew at an Anzac Day March, we were advised that Charlie saved his flight chocolate ration to distribute to his ground crew on his return. This was an interesting fact to recall 50 years on; it must have been really appreciated at the time!
Also, as his sons sought information about what their Father was 'really like' in his youth - expecting some juicy gossip - we were disappointed but also proud, to be told that he should have become a 'Padre'!
---
Civilian Life
Charlie was discharged from the RAAF in January, 1946; after 8 years service and over 3,000 flying hours. Just two weeks later he joined ANA - later renamed Ansett Airlines - and so began a civil flying career spanning 28 years.
He accumulated 8,800 flying hours on the noisy, draughty DC3's; which he used as his excuse for being somewhat deaf! Other aircraft flown during his civil career included: the DC2; DC4; DC6; Vickers Viscount; and, DC9. In October, 1974, he finished his flying career - at the then compulsory retirement age of 60 - as a B727 Flight Instructor. His total flying hours amounted to an incredible 25,560; the equivalent of nearly 3 years 'off' the ground.
Interesting events during this period included:
Captaining the first commercial aircraft to land at Tullamarine on 15th August, 1967; which was a DC9 (code CZA). His Copilot on this occasion was Pyke.
Captaining flights from England and the USA to ferry aircraft for Ansett's fleet.
Captaining numerous 'scenic' flights over many parts of Victoria.
Coping with numerous engine failures, nose wheel retraction problems, tyre blowouts, and compass failures etc; none of which were reported in the media - unlike today!
Moving his family from Adelaide to Melbourne as part of the Airline consolidation process in 1956.
Whilst flying was his dream job, his family was his real love. He provided very well for his family with many family holidays, many involving fishing at which he was very good! With 3 sporting sons, Charlie and Joyce were kept busy supporting them in their various sporting pursuits. Later, seven much loved grandchildren kept them even busier!
Charlie was also a' Mr Fixit' (harking back to his 'Fitter and Turner' days). If it was broken he would fix it and his garage was full of items that he knew, one day, he would need. Perhaps he could have been a valuable contributor to the B-24 Liberator restoration project at Werribee.
In their retirement, Charlie and Joyce travelled extensively both overseas and within Australia. Golf-related holidays - and social activities - became a large part of his later years and both he and Joyce were members of the Eastern Golf Club in Melbourne. Charlie was still playing golf mere weeks before he passed away from cancer; and only two days before his 78th birthday.
Charlie is remembered by his family as a determined, honest, hard working, courageous and loving family-man who was extremely well organised and self disciplined – just the type of person you would want at the 'sharp end' of an aircraft!
We will leave the final words to the Commanding Officer of No. 23 Squadron shortly after the end of WW2:
"His sound knowledge and judgement plus his ability as a leader, both in the air and on the ground, make him one of the 'backbone' members of this Squadron".
---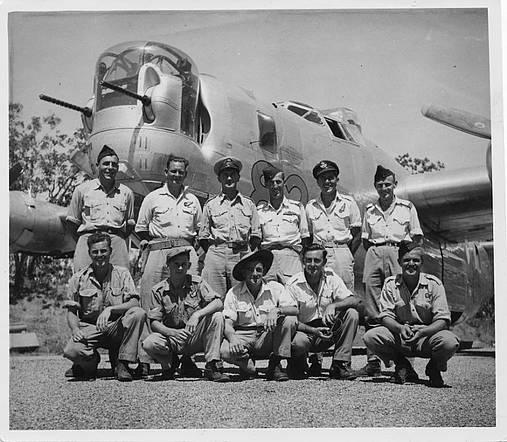 Back L to R: Jack White (Wireless Operator); Ted Mullett (Navigator); Charlie Lister (Captain); Percy Parkinson (Copilot); Hal Hillier (Bombardier); and, Bert Degoose (Wireless Operator). Front L to R: Bobby Hill (Rear Gunner), Russell (Buck) Rodgers (Ball Gunner), Bill Horswood (Engineer), Colin Campbell (Nose Gunner), and Allan Foord (Top Gunner).