Welcome to
B-24 Liberator
Memorial Australia Inc.
---
Virtual tour by Barney Meyer and Mark Hassed from hiddenmelbourne.com.au
This is the only remaining Liberator in the Southern Hemisphere and is one of only eight still existent in the world.
This intricate restoration work is proceeding in one of the impressive World War II hangars on the old Werribee airfield - just outside Melbourne in Victoria. It is our intention to eventually have the airframe completely restored.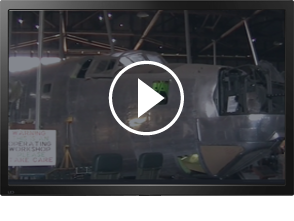 Seniors' Open Day
Thursday 2nd June 2022, 10am - 1:30pm
There will be a Seniors' Open Day at the B-24 Liberator restoration hangar and museum on Thursday 2 June 2022 from 10.00am to 1.30pm.
There will be free entrance, free morning tea/coffee and sausage sizzle lunch, plus the opportunity to view the magnificent World War II B-24 Liberator aircraft, an Airspeed Oxford being rebuilt, and the museum collection of small memorabilia associated with Liberators.
During the morning tea we shall also acknowledge Queen Elizabeth II's Platinum Jubilee, which is being celebrated this year.
We do hope to see you at the hangar (Cnr Farm Road and Princes Highway, Werribee) on 2 June. If you are driving, please take care when entering the hangar precinct as road works mean extra caution is needed when turning into, or out of, our access road.

Plan your next adventure visiting the Aviation Museums of Australia
For information about Aircraft Museums all over Australia, see the brochure below.
Follow the easing of Covid restrictions, the following restrictions in place:
Volunteers and Visitors will need to check in with the new QR Code on entry and must provide proof of double vaccination to be allowed entry.
Face masks will be compulsory indoors, and social distancing must be practised at all times.
If anyone feels unwell, they must not attend until they are tested for Covid and have a negative result.
Please be aware that severe penalties apply for any breach of these requirements, both for the individual and the venue.
Would you like to volunteer to work with the B-24 Liberator restoration group?

We need people with skills in various areas including: aircraft restoration and rebuilding, aircraft engineering, hangar maintenance, museum collection management, shop attendance.

A new volunteer might be allocated a mentor or have a 'buddy system' for a training and familiarisation period. You would need to travel to the restoration hangar and museum in Werribee, Victoria.


Why not visit and talk to one of our volunteers or contact us to see if you might contribute to our very worthwhile projects.